Thousands of people flock to Sarasota year round to explore our beautiful beaches, experience our world class performances and kick back in the warm sea green Gulf waters.  I thought you might like to take a sneak peek into what it is like to live in paradise year round and get a glimpse of some of our favorite spots to visit.
Summer in Sarasota is a magical time. As much as we love all the visitors, we do definitely breathe a sigh of relief at the start of summer when the traffic evaporates. Because we aren't starved for sunshine like the north east, we actually enjoy rainy days and appreciate finally not having to water the gardens. And even though we may not go as often as a visitor, we do still regularly stick our feet in the sand at the beach.
Out for Drinks
Calusa Brewery is nestled in the heart of South Sarasota is a delightful surprise for really good beer (and they have a small selection of great wine too if that is more appealing). Food trucks often appear in the parking lot and friends are easily made. Check out their website to see what's on tap!
In the Sand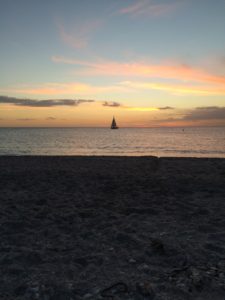 No the sand isn't quite the powdered sugar of Siesta and the drive is a few minutes longer, but this beach is one of our favorites. Parking is never a problem, the bathrooms are right there and you don't have to walk for 10 minutes to get to the water (which if you have a small child can take more like 45 minutes as they continually plop down to dig/roll in the sand). 
Dinner Date
This little sushi spot in Gulf Gate is always tasty and fresh (and doesn't require driving downtown). I have only ever had wonderful meals here. The John Lennon Roll is one of my absolute favorites!
Out to Lunch
This delightful restaurant is where I like to lunch with my lady friends (on the rare occasion that we are able to get together for lunch!) because it is absolutely wonderful to sit out on the sidewalk, sip a glass of wine and watch the world go by. Plus the food is always delicious.
Time for a Treat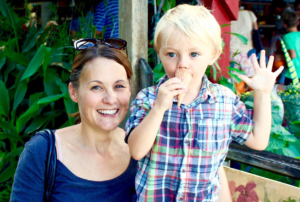 This is where I bring all of our visitors for ice-cream. Firstly because they offer a vegan ice-cream in just about any flavor you can imagine and I haven't been able to eat dairy since my mid thirties, but also because the spectacle is almost as exciting as the treats. 
Quiet Time
My son and I are avid readers, so we make a weekly pilgrimage to one of the libraries to  restock. Selby is one of our favorites – huge, has a really cool fish tank and a great selection of books. For me, the library is my church – in spite of all the technological advances, I still expect it to be hushed, the books to be revered and the librarians to be all-knowing.
At the Market
http://orientalfoodandgifts.com
We eat a lot of Asian food – particularly Japanese. This is a staple spot for real Miso paste, red bean buns, sesame candy and any type of noodle you could imagine. Being located right on the strip in Gulf Gate, it is easy to find time to stop in and they are super friendly too.
Play Time
The kids will not tire of this playground. You will be pulling them away in tears. There are also beautiful walking/running paths to explore. Plus it is a historic home site, so basically a win-win-win.
Let me know what your favorite spots are in Sarasota! I am always looking for new adventures.