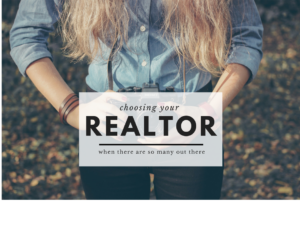 Selling your home or investment property is about moving forward, often out of difficult life transitions. When you are trying to choose a brokerage and an agent to handle the sale of your property, don't fall for the corporate glitz and glamour. Ads and magazines don't sell houses. They build brand awareness for the brokerage. And while that can be a good thing to align yourself with, you also need to keep in mind the type of Realtor that will be working with that brokerage and how much of their time they will be able to dedicate to you. Many of the larger agencies fund their enormous advertising budgets with the hefty portions of commission that they absorb from the agent performing the transaction. The less an agent is able to keep on every deal, the more deals she must close in a given period of time to make a paycheck. This means that you may not be getting the same attention to detail and personalized attention that an agent at a smaller brokerage or one with a lower commission split would be able to provide. I pay rent, but I keep my commission. This means that I will always be able to give my customers all of the individualized attention and grass roots energy that their listing requires.
Ask everyone you know for a referral. Most people enjoy the opportunity to either sing someone's praises or put out a public service announcement against using someone who has failed to meet their expectations. Word of mouth is very powerful in this business. It can be difficult to assess what it would be like to work through such an emotional process after only a brief interview. You must be wary of those agents who tell you only what you want to hear and NEVER base your decision on list price. There are agents who will hook a listing with a high price tag, knowing that they will be dropping that price multiple times before they get any nibbles.
Above all else, trust your gut. Go with someone you feel communicates well and who will bust their butt to get you on to your next adventure.