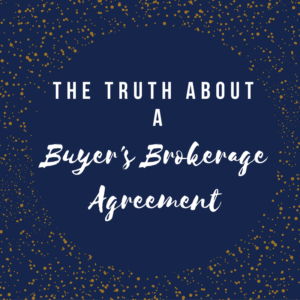 Why to Sign
Many people have never encountered this document before, even if they are not new to real estate. While it may be intimidating to sign a contract with a Realtor before you are even sure how much you want to spend or what you want to buy, it is important and here is why:
This commission agreement allows your Realtor to commit their time to finding your new property and also enables them to show you properties that are not listed on the MLS, including some bank owned properties and for-sale-by-owner homes. Often customers feel like they will be missing out if they don't allow Realtors to compete for their business, but this is simply not true.
While you may have 10 different realtors sending you email listings of properties, you do not have anyone actively working to help you achieve your goal. There are numerous properties that never even make it onto the MLS (usually the best ones) and you will miss out on all of those because of your fear of commitment. The Buyer's Agreement gives your Realtor the ability work all avenues to get you the property you seek. Of course, read the document carefully as every brokerage has different requirements. Premier Plus Realty does not have a cancellation fee. At any time, you are free to cancel the Agreement and work with someone else. However, providing good service to customers is the most important thing to me (and most Realtors) so I would ask that we sit down early on if there were issues to discuss. Frequent and clear communication are essential to a smooth transaction from day one.
You have nothing to lose.